Home | Family Pictures | What's Tom up to? | Rogues Gallery | Climbing Pictures | Anne's Art | Vacation Photo Album | Website Links | Contact Me
Deepwater Soloing at Clear Creek, Arizona (6-6-2004)
Colin and Mandi
On Sunday I was invited to join a posse going to Clear Creek near Winslow Arizona to do some deepwater soloing on the sandstone walls there. (Deepwater soloing involves climbing without a rope (soloing) over deep enough water that you can fall without hurting yourself). Eventually we got things rounded up and headed out. Cleverly we forgot the paddles for the canoe, but luckily another guy from Flagstaff was packing up to head home and loaned us his paddles. We waited for the rest of the people to show up, but eventually just started paddling up the river (flooded canyon) and figured they would show up when they showed up. There were 4 of us in a Coleman canoe. I wasn't paddling, and it was somewhat painful for me as I suppose Darrow turned me into a bit of a paddling purist (for instance, it is done with paddles, not oars). But I mostly just leaned back and enjoyed the ride. We passed many groups of people sitting on the rocks on the sides, and the cliff walls rose higher above us. Eventually we saw a decent looking line and pulled over.
The rest of the posse showed up shortly in 2 more boats. One with a motor pushing both boats. Then the last member showed up at the top of the cliffs. She had walked from a dirt road. We totalled 14 in a rowboat, canoe, and small fishing boat. We definitely looked a bit like refuge boat people, especially when we linked together into a whiplashing train to get towed around. Unfortunately I was taking the pictures, so I don't have any of myself. Also I missed a number of gorgeous shots because I was keeping my camera in a little dry bag, so it took a long time to get it out.
The day consisted of climbing and swimming and moving to new climbs. It was a lot harder to start out of the water because the rocks were very slimy below the waterline, and your hands were wet, so ideally you started out of a boat, then the boat would get out of the way so you woudn't hit it if you fell. It was fun to be able to climb a long ways without messing with a rope or any gear or the worry of dying. I was at a disadvantage without my glasses, although when I got to the top and had to jump, it might have helped me to not be able to tell exactly how high I was. The sun was very hot, the shade was cool, and the water was cold, so by rotating it was possible to stay somewhat comfortable. I wore my old moccasyms to climb in, since I could afford to get them wet. The highest climb I did was called "sea king" by Colin, and I have some pictures of him on it and jumping from the top.
Climbers at Clear Creek
Colin heads up a seam
Preparing for impact
Colin heads up "sea king"
Colin jumps from the top of "sea king"
splashdown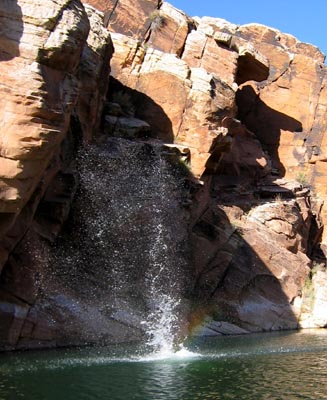 A good but exhausting day out on the water and on the rock.