Home | Family Pictures | What's Tom up to? | Rogues Gallery | Climbing Pictures | Anne's Art | Vacation Photo Album | Favorite Links | Contact Me
Bugaboos 2003
Hiking in, with the Hound's Tooth and Bugaboo glacier behind me
After arriving in Squamish I ran into Geordie who was psyched to head to the Bugaboos. After a few days of climbing in Squamish and some hasty packing we headed out for the long drive. It was much longer than I expected, taking some 12 hours. We passed some pretty smoky areas from the numerous wildfires and saw one off in the distance that looked like a huge bomb had gone off. We finally got to the parking lot around 1 in the morning. We wrapped the truck for porcupines (there are piles of chicken wire and sticks) (the porcupines want to eat your tires and hoses and belts supposedly). Unfortunately I left the window open between the cab and the back and I acquired at least one mouse. After wrapping the truck I looked up to check out the weather (and stars) and noticed some wispy clouds lit up by the moon. I was pretty tired so I thought my eyes were playing tricks on me, but then I came to the conclusion that they really were moving all around and that they must be northern lights. We just slept out on the ground and were treated to the best display of northern lights I have ever seen with curtains, starbursts, and other excellent fast moving displays. It was lacking in color though, with mostly a greenish light and only a hint of red a few times.
8-18-2003
The people Geordie had talked to said that they would carry in 2 loads rather than one crushing load so we headed on up the trail with our camping stuff but not the climbing gear. We made good time up the soon steep 7 km trail that gained over 1000M to the Applebea campground. About 3/4 of the way up we stopped for a while at the spectacular Kain hut to check it out. At the campground we set up the tent and then helped carry some gear down for one of Geordie's old housemates who was leaving. The hike down was worse than we expected, especially for Geordie's knees. Then we loaded up the climbing gear and headed back up for the demoralizing second trip. Ooof. By the time we got all the way back up we were pretty beat, so we cooked up a big pot of dinner and then went to bed.
8-19-2003
On the West Ridge of Pigeon Spire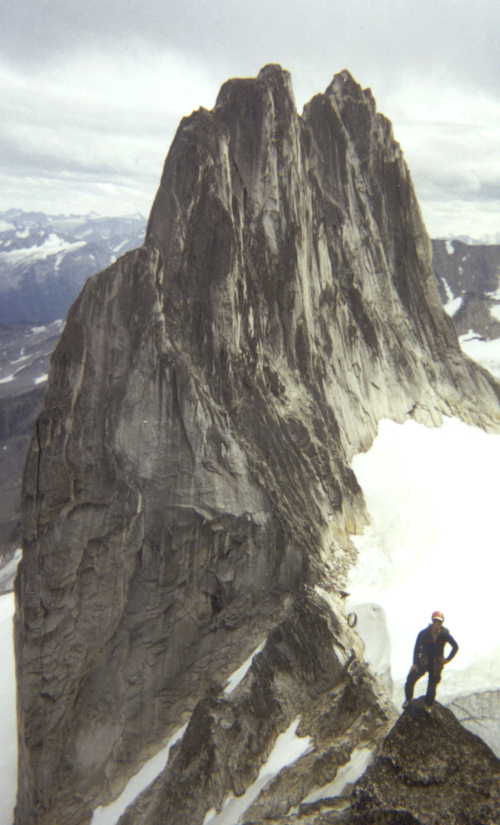 The weather forecast wasn't too promising and the glaciers looked a bit rough, so we decided to start out with a modest objective, the west ridge of Pigeon spire (5.4). This was the first time Geordie had done any glacier crossing, so I led across crescent glacier around a few crevasses and across a bridge (following the well stomped trail) and then down around the bergschrund and up the steep ice above through the Snowpatch - Bugaboo col. Then it was fairly straightforward snow slogging up to the west end of Pigeon spire. I was going pretty slow from the heavy boots and being tired from the day before though. We decided not to carry a rope up Pigeon, and I was very glad we didn't as it was almost all 3rd class (easy scrambling) with only a few moves that might be 4th class in some other areas but were described as 5.4 in the guidebook. We blitzed up the ridge over the west and middle summit to the highest east summit in just over half an hour. There we took some pictures and drank in the amazing views before heading back down to grab our stuff and head back to the col.
Geordie high on Bugaboo Spire
It looked like weather might be threatening, and I even got hit by a few drops at the col, but we decided to hit the Conrad Kain route on Bugaboo spire. This is a much longer route, although almost all of it is easy scrambling. We cruised on up without a rope again, but I was definitely slowing down and no longer bouncing up stuff. We used some cord to rope up for the 5.6 crux moves and then we were on top for some more pictures and gaping at the incredible alpine scenery. Then we headed back down. Reversing the crux was a little scary, and then we had a long lot of scrambling in our climbing shoes back to the boots. Our feet were crying for mercy before we got down. Then we rappelled down the rocks next to the steep snow and planned to rap over the bergschrund, but the rap didn't reach, so we downclimbed the loose but easy rocks into where the 'schrund had collapsed. Then back to camp for another big pot of dinner and bed.
8-20-2003
We were pretty worn out from the previous days exertions and the weather forecast for this day was supposed to be iffier than tomorrow, so we lounged around 'til afternoon and then we went to climb McTech arete, a 6 pitch 5.10 that was a closer walk and that we could rappel down to get off. There was another couple on the route, but we started up anyway. We passed them just before the last pitch we did (#5 - because the sixth pitch was a low angled wandering pitch). Then back down for a lot more food and prep for the next day.
8-21-2003
Wrapped up below the Beckey Chouinard route on S Howser Tower
Today the alarm rang at 3 am and we grabbed the stuff and headed out by 3:30. Tromping across the glacier and back to the Snowpatch-Bugaboo col. This time we tried scrambling up the rock rib to the left of the main bergshcrund. It was a pain, but maybe easier and safer than the steep icy bit at that hour. Then trudging on up to the Pigeon-Howser col which we descended to the point where we had to rappel down to the galcier below. Here we left our boots and crampons and continued on with just our climbing shoes and ice axes. Mostly this was ok, especially with my long ice axe, but there were a few spots that were particularly steep and treacherous in the morning cold (they wouldn't have been any problem with normal boots and crampons though). Finally we got off of the glacier and from there it was quick walking to near the base of the route. We started up the long scramble up the south buttress. I felt pretty weighed down with the pack and ice axes and climbing rope and I wasn't moving very fast. Eventually we got up to where the climbing started and we soloed the first three pitches. These were labeled "mid 5th class" on the topo, and I am guessing 5.6, although with all the weight and feeling sort of sick they were a bit more than I might have liked to solo.
Finally we got to the first 5.10 pitch. The position and climbing were excellent, although I really didn't feel very well (my digestion wasn't working at its usually iron-clad best, and my head hurt a bit too). We continued on up simul climbing a number of 5.8 pitches and eventually catching up to another party that was ahead of us. They said they started from the hut at 3:30 which I found odd as they had been well ahead of us, but their watches were on Alberta time and we were on BC time (we were probably somewhere very close to the actual boundary). They let us pass them somewhere around pitch 10 and we headed on up another 5.10 pitch this one involved some lie-backing and wide crack grunting. By now we were high on the route but moving slower. It took me nearly a pitch to force down half a Squish bar (normally 3 or so quick bites) while belaying Geordie and it wasn't sitting well. I followed the pitch and then continued on up a 5.6 gully with the big pack still on. I was going slower and slower due to increasing levels of internal distress. I managed to get to the top, and built half an anchor when I was wracked with dry heaves. Eventually these were replaced by genuine (but low volume) regurgitation. After that was over I finished with the anchor and brought Geordie up. From there we had a short rappel and a few hundred meters of simul climbing to the summit. The guidebook said this was a 20 pitch climb, although we soloed and simul climbed a number of them. We rested briefly and managed to get a summit shot and prepare to descend. I also relieved the other pressing pressure in my innards. The raps were a bit messy as pulling the ropes usually disloged a few pebbles or stones. This wasn't so bad when we pulled our ropes, but when the second party started rapping they sent down some bigger stuff from much higher above us. Yikes. I got pegged on the helmet by a marble sized pebble, but nothing else actually hit me. The sound of stones buzzing past is not a comfortable one though. The last rap station above the snow deposited Geordie past the bergshrund, but on a very steep headwall of snow. I rapped down and over to a sling in the ice to use it to reset the rap, but it pulled right out of the snow. We ended up chopping a snow bollard and slinging it and rapping off that down to the flat snow of the glacier.
The glacier was much easier to navigate in the afternoon as it was a bit softer and you could kick in a bit. Eventually we got down to the top of the Pigeon-Howser col. I was feeling a lot better by then, but Geordie kindly went down to retrieve our boots and crampons while I sorted all the climbing gear. Then it was back down the Snowpatch-Bugaboo col in the waning light (the snow bridge now had a few holes punched completely through) and a return to camp in the dark around 9 p.m. There we cooked up a small dinner and went to bed.
8-22-2003
We slept in 'til at least 7:30 or 8. Then we had a leisurely breakfast and packed up slowly. Finally we hoisted the packs and headed down. This descent had been long dreaded, but I was the pacer (slow) and we used walking sticks (or ice axe in my case) to ease the bigger steps down and although slow and tiring, it wasn't that bad. Upon opening my truck I discovered the mice had been busy chewing into various food bags and shredding paper to make nests in my shoes. Harrumph.
Then we loaded up the truck and headed on up to Golden where we looked at a guidebook to scope mount Sir Donald. The NW? ridge looked really good, but the weather didn't, so we decided to play it by ear. We camped just off the road outside of the park and decided that if the weather was good we would go for it, but if things looked iffy, then we wouldn't. Sometime in the night the rain started, and we put on the rainfly and I turned off my alarm with a mixture of disappointment and relief. The next morning the weather didn't look too bad, and we probably could have climbed, but by then it was too late. We packed up and made the long long drive back with a slight detour by mistake past a huge copper mining operation and another stop to look at a bouldering area that looked really good.