Home | Family Pictures | What's Tom up to? | Rogues Gallery | Climbing Pictures | Anne's Art | Vacation Photo Album | Website Links | Contact Me
Mt Tom and friends at sunrise from the pit
Bishop 2005
Feeling a little fat and weak from my months visiting relatives indoors, I need to get some power and readjust to living in the dirt. Bishop could be just the ticket. This plan was delayed a bit due to details like rain and snow and cold, but eventually I pulled into the Pit late one night and crashed out. The next morning I moved into a site and started looking for people I knew with only limited success. I bicycled to the Happys and warmed up by myself in the wonderfully warm sun, then I started meeting people I knew. It turns out that the high muckety mucks at the BLM want to rigidly enforce the 28 day limit at the pit, so some people have already been evicted and others have elected to save their pit days for later. harrumph, this is not a good sign. In fact, there were a number of changes to the pit this year. Most noticeably the fancy new concrete pit toilet, and the complete removal of the slack lines and posts, and the elimination of the recycling containers. One improvement and 3 unimprovements... not a good sign. It looks like the future, and it doesn't look good. Turns out there were some other hijinks (non climbers) at the pit including allegedly a few parole skippers and a meth lab and a registered sex offender (which might have something to do with the BLM's tightening of their control). Luckily those appear to have been cleared up before I got there.

Well enough of that nonsense. I came here to boulder and climb. After flailing around for a while (recovering strength, technique, and skin), I finally started to send some new problems. Just as I got into the swing of things, my 28 days are nearly up. Frustrating.

Thank you Looney Bean for the wireless link... Patronize these fine folks in Bishop.

We took a side trip to Saline Valley.
and to the Moon Tribe gathering.
and spun fire poi.



Jesse throws all points off in the tungsten boulders
Christy sends Go Granny Go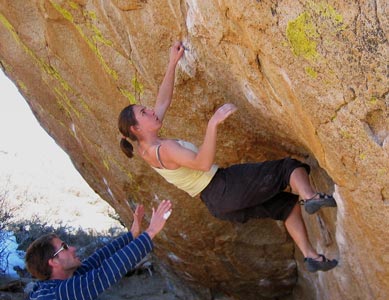 Jesse throws on the Ironman Traverse
Jeff relaxes at the pit
Rocket, newest pit denizen
Now that's a fire! (pallet for scale)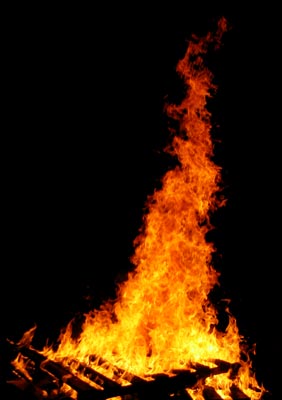 Moonset over Wheeler Crest
Ted is on his own on "Black Magic"
Tom on "Black Magic"
Sequence on the Savanna boulder
Baby rattlesnake (about pencil sized)
Another baby sidewinder (with watch for scale)
Skippy up by the buttermilks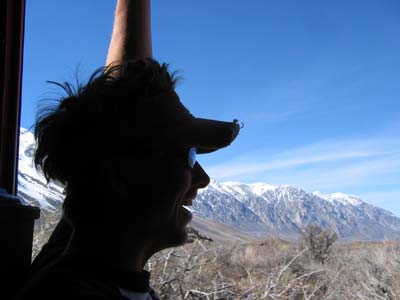 Tara eyes the next hold in the Happys
Tom using the force on "Jedi Mind Tricks"
What is that in the crack? ...
... just Tara working the squeeze chimney "tara incognita"
Blake demonstrates puffy lip technique
on "Lydia's big mouth"
Christy guns for "big city boy"
Cory works on his tan and the sit start to "buttermilk stem"
You bravely got this far... Somehow, I was unable to leave the Bishop Vortex for a while longer, so I got a chance to boulder a lot more... Some of the problems that I sent included "every color you are", "Little country girl", "big city boy", "weapons of mass distraction", "work is a 4 letter word", "black magic", "Jedi mind tricks", "anti-hero", plus a number of repeats. I also had a number of "moot points" that unfortunately were not resolved into sends. Of course I left plenty of projects for my next visit, especially at the buttermilks.
As always, one of the nicest thing about a visit to Bishop was the community of people there. I had a good time hanging out and climbing with all the "pitizens" as well as working on my rest day skills such as hacky sack, poi, and slack lining. Other activities included sitting around fires, cooking up 25 pounds of pancake mix for everyone, soaking in the hot springs, and putting a day in "at the office" to surf and work on this web page. The weather this year was a bit odd, with a number of large wet storms passing through. There were only a few days where it felt too warm in the sun, and plenty where it was downright cold with the wind.
Dave shows the young-uns how to do the vulcan traverse
Pictographs on the tableland
Skippy tries to break dance on a rest day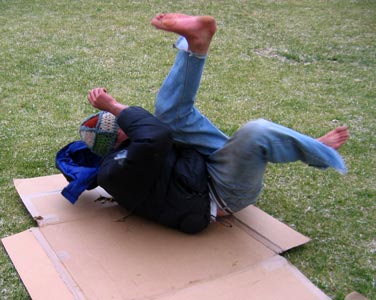 Isabel's finger shows just what the buttermilks can do
Vicky styles the crux of "hand to hand combat"
part of the painted lady invasion
Mark reaches up on "weapons of mass distraction"
The end of "just another day in paradise"