Home | Family Pictures | What's Tom up to? | Rogues Gallery | Climbing Pictures | Anne's Art | Vacation Photo Album | Favorite Links | Contact Me
Picket Traverse 7-20-2001 through 7-29-2001
The Batchelor Geologist trip
A picture of the southern pickets taken from luna peak
I first heard of the idea from Rob when I climbed with him in Joshua Tree California in April. A traverse through the picket Range in the North Cascades in Washington seemed like a good idea at the time. The Pickets are a rather remote and spectacular bit of alpine wilderness hidden between the North Cascades Highway, Ross Lake, Mount Shuksan, and Canada.
Packing the day before we left was rather daunting, as I had never carried 11 days worth of food on my back before. I was somewhat paranoid about running out of food, but also knew my pack would be a beast. It ended up being a rather staggering load despite pairing down a few items I had originally planned to bring (fleece pants and down jacket to name a few).
Day 1 The 20th we loaded up our packs completely and shuttled a car to Diablo. We managed to get a boat ride up Ross Lake from the kindly Ranger that Rob and Steve both knew. Then we shouldered the behemoth packs, and started up the little Beaver trail. We had 11.4 miles to go, which would normally not be a long day for any of us, but the weight of the pack and starting at noon made us all ready to quit when we got to the campsite around 6:15. (well, maybe Steve wasn't too tired yet) There was a bit of a sprinkle that night, but just enough to make us jump out of the tent to cover our packs.
Day 2. Things started with a climb up to Big Beaver pass. This had a lot of up, but was on a decent trail that switchbacked and was steady going. I got stung by a bee on my thigh while scouting where we would bushwhack. About noon we left the trail and started up through the trees and underbrush. The Beckey guide mentioned some of this was "moderately unpleasant" Sure enough some was, although for the most part we just slowly crawled our way up the slope avoiding most of the worst obstacles. Finally we got up above treeline and began to traverse the ridge. Unfortunately this is also where the clouds came in and some "soft" weather started (a very fine drizzle). This did not aid our navigation at all. Eventually we called it quits and camped on an almost flat spot below a snowfield around 6300'. My boot was delaminating much to my disgust and fear (I was afraid of this, but I thought it would at least last longer) I used a bit of wire and string to try to hold it on.
The three of us were camping in a large 2 man tent (although large, it wasn't large for 3). The outside people had their feet at the head of the middle person. This was cozy to be charitable. Actually it wasn't too bad, and since my sleeping bag was pretty pathetic, I was often the middle person.
Day 3. Today we traversed up and down and up and down along the ridgeline and to the south of it. My boot heal delaminated requiring more wire and string and some duct tape. We dropped down some rather steep and loose talus to below Eiley lake (starting some rather impressive rock avalanches in the process), and then back up to the ridge. Luckily by then the clouds were lifting, and we were able to see where to go rather than do it by guessing and trial and error (frustrating with big heavy packs on). Here we roped up for a glacier traverse past Wiley lake and eventually to our next camping spot on Challenger arm. Mount Challenger looked very impressive as did the Northern Pickets that we could see. I cooked a heap of vegetarian chili with dehydrated onions, beans, etc. etc. It was plentiful and tasted very good but had a disastrous effect on the air quality in our little tent.
Day 4. We set off early under crystal clear skies. There were clouds below us in the valleys, and many of the other peaks poked up through the clouds. Hozameen on the other side of Ross Lake looked like a prehistoric sea monster's back rising out of the sea of clouds. We hiked across the Glacier to the base of the east face of Challenger. There we had a bit of trouble getting over the moat (the gap where the snow melted back from the rock face). Soon we were putting on climbing gear. I had the first pitch which skirted around a big snow block and then up a dihedral. Maybe a few 5.6 moves. The next bit looked a good bit harder. It was Steve's lead, and he wisely elected to traverse left to avoid the overhanging crack/dihedral with poor protection. I was carrying the pack for this pitch, but it wasn't too bad, as it was mostly slab climbing with holds. Probably 4th class for most of it. Then Rob got a lead up to a gravelly slope next to a snowfield. From there we were unsure where to go. It was my lead, and although going left looked easier (and looser), we decided to try to the right where it looked a lot more interesting. Interesting it was. With a bit of traversing, some relatively easy but sparse on protection dihedral, and then traversing back left on a wet ramp and up a small waterfall… exciting. We ended pulling the pack up the bit after that. It looked like the route would traverse around to the left and then head up to the top, but things looked a good bit harder, and Steve backed off and handed the lead to me. It didn't look THAT bad, but it was hard to tell what would happen above, and the pro was rather sparse… Finally I found a slot for a little cam, screwed up my courage, and pulled the small roof. I continued to find small but adequate holds and was able to establish myself on the steep face above. From there it was only a matter of following the best holds and hope for pro up to the top of the rock. Probably old school 5.8. Steve Hauled the pack over the overhang, and eventually we were all up. Unfortunately clouds were blowing in from the west by then. We got our boots and axes out of the pack and headed towards the summit. This involved one short 5th class move and then we were on the summit (in a near whiteout). Heading down would be interesting. Rob led us down. I was in the back, and at times I could barely see Rob 190 feet ahead. The light was amazing, as we were near the top of the clouds, and also near sunset. Occasionally our path would veer as Rob dodged some huge crevasses that would yawn out of the fog, but then we caught a break in the clouds, and were pleased to see we were right on course. Soon we were back at the tent. This had been a rather long day. We were not the fastest of climbers, and with 3 people and a way too heavy pack., well, we made it anyway. That night it rained again.
Day 5. Today we went down into the north picket cirque. This involved crossing a glacier, then down steep talus and heather skirting cliff bands. Eventually we got to a seemingly endless talus slope to the valley floor. This wasn't friendly talus. It involved all sizes of rocks from pebbles to large appliances, and it was loose. One rock shifted and I spun around and did a back somersault down the slope. Luckily I had my large pack on, as that is what I landed on. But I came back up on my feet, which is better than Steve, who was trapped like a turtle on its back when he went down. We crossed the valley floor on more "unpleasant" talus and then dropped down a fresh (loose and steep) moraine onto another glacier. While crossing this talus we noticed a number of interesting minerals. Being geologist geeks we had to stop and look at the crystals. The lowest glacier was so covered in rocks that it was more like walking on more talus. We skirted around lousy lake, and then headed up the moraine eventually getting to Luna lake. Luna lake had large chunks of ice floating in it and a spectacular sunset view of the east peak of Mt. Fury.
Steve where we camped on the Fury col.
Day 6. There was fresh ice on Luna lake when we got up. We headed up the talus and steep slopes SE of Luna lake. After an hour or so, we dropped our packs and Steve and I headed up to summit Luna peak. Steve took off nearly running, and I tried to keep up. It was nice to be moving without the heavy pack, but the pace was brutal. We got to the South Summit in about an hour, and decided that it would take too long to get to the North summit which is a few feet higher. The view from the summit of Luna was one of the most spectacular I have seen. Then we scrambled and glissaded back to Rob and the packs. Once more we were beasts of burden as we headed up to the ridgeline between Luna and Mt. Fury. There we scrambled and traversed the ridgeline until it cliffed out and we dropped down and traversed along snowfields and talus to a glacier coming off of Fury. We spotted a mountain goat ahead of us. There we roped up and slogged up to the col between the E peak of Fury and the S peak. Here we dug and chopped a flat spot in the snow and set up the tent.
I fix my boots at Picket pass
Day 7. We left most of our stuff and headed up the steep snow to the East Summit of Mt. Fury. Eventually we got there for more spectacular views. Descending was almost as slow, as the snow was soft in spots, and it was really steep (40 degrees?) with crevasses and drop offs below. We backed down a good bit of it. Then we packed up camp and took it up to a higher col to drop down an endless gully. Luckily (for me) there was snow in most of it, so I could glissade. It was just about as steep as I was comfortable with aided by my long ice axe. It was too steep for Steve, who was not having a good day. It seemed to take forever to drop the one or two thousand feet. Then we had to traverse steep meadows and talus back up to Picket pass. At least the packs were getting lighter. This was the first day I managed to heave it onto my back without first resting it on my knee. Picket pass had more great views of the Southern Pickets. Looking from there we confirmed our earlier worries about the plan to cut across below the glaciers on the north side of the Southern Pickets. Most of the snow was melted out, so it would have been on steep slabby rock below hanging glaciers that were dropping rather large blocks of ice. The picture in the guidebook showed a lot more snow. So instead we planned on heading through the col between the Himmelhorn and the Ottohorn and out through terror basin and Goodell creek. Unfortunately we didn't have the maps or route descriptions for all of that. That evening I used bits of safety pin to try to anchor my boot soles back on more firmly. (it lasted for a bit the next day).
Day 8. The next morning we were in the clouds again. This makes navigation a real pain. We headed up the ridge over some rather large bumps. Then we had to climb up a near cliff. Maybe a bit of 4th class and a lot of 3rd. Not so much fun with packs on.
Rob climbing up a steep bit above Picket Pass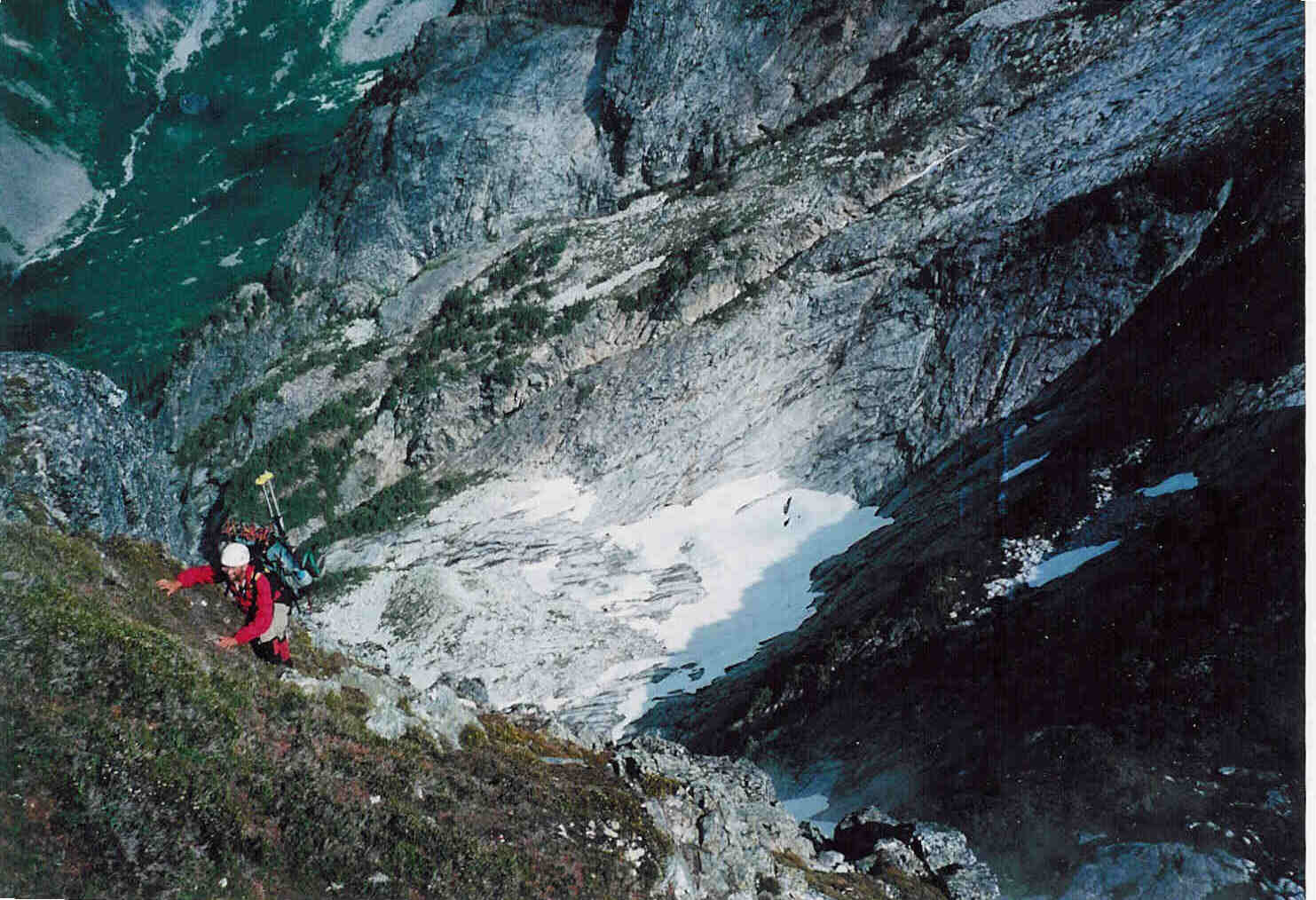 Then on the ridgeline a lot more before we were able to drop down onto the mustard glacier. There we headed up steeper and steeper terrain until we had to stop and belay across a snowbridge over the bergshrund and some steep ice and snow to the col. There we could see the "wild hair crack" which we planned to climb the next day. It looked pretty good. Then down the gully on the other side. This was even steeper than the one we went down on day 7 and even involved a rappel. As the guidebook said it offered a "possible technical backpacking route". We roped up and placed pickets for the descent. At the bottom we looked for a flat place to sleep, eventually leveling a spot on another snowfield. That evening the clouds moved in in earnest, and just after dark it started to rain. It rained all night.

Day 9. It rained all morning. We didn't really get out of the tent until 2 when there had been a decent gap in the rain. With the weather and low visibility we weren't going to get to do wild hair crack, so we packed up and slogged through the steep wet heather, talus, and snow to the Chopping Block ridge. Then we descended and traversed to the left looking for a flat spot to camp. By then my feet were soaked, and the drizzle had started again. Finally we found something sort of flat. I cooked our third lentil dinner in a row, and we crawled into our damp sleeping bags.

Day 10. More rain and clouds, but the rain was very light and then stopped. We packed up and headed through the clouds to the barrier, a steep ridge that runs south from the southern pickets. We needed to be on the east side of it to get to Terror Creek, but the east side appeared to be a cliff that dropped out of sight in the fog. We traversed south down the barrier getting completely soaked by the wet vegetation. We dropped quite a bit, but ended up on the west side of the barrier. Eventually we climbed back up to the ridge, and then dropped down steep forested slopes on the east side. Here Steve disturbed a bee nest and was stung. We traversed and dropped between cliff bands holding onto trees, roots, and anything else we could. I found my "dirt axe" to be very useful. Eventually after one particularly nasty downclimb we were cliffed out. So, we started rappelling off of trees and scrambling when we could. More "technical backpacking". The last rappel used both ropes, and I still wasn't on the ground. I let the rope run through my ATC and held the very end (it wasn't even), and grabbed a sloper with the other hand. Then I let go of the ropes, which sprang away, and downclimbed the last 10 feet to the ground.

Getting a bit back from the cliff, I was able to yell up and have the others even the ropes up a bit. This allowed them to barely touch the ground with rope stretch. Then it was steep talus covered with alder and moss. We fought our way down to Terror creek where the sun finally came out. We forded the creek with various amounts of disregard for stomping in the water. Then we were bushwhacking downstream and higher on the other side in the hope that we would run into a bootpath. We scouted about on a massive talus field but never did find a bootpath. The bushwhacking went on and on and involved devil's club, ferns, large logs, rotten logs, large talus, slide alder, and all of the above mixed together so you couldn't see your feet. I got stuck by devil's club and fell over backwards and got stuck by a tree branch. For a while we followed a path a bear had beaten through the brush. I found a patch from some clothing, and we pitied the poor person that had been before us. Finally we spotted a bit of surveyors tape. We bashed down to it, but couldn't find a trail. We hypothesized it marked a log for crossing Terror Creek. At 6:20 we hit the boot trail and started making decent time. We hit the end of a logging road at 6:40, and there I retied my bootsole on for the last time. Then we had about 4.5 miles on a decent trail to camp. A little bit more on the road took us to hwy 20 where we were going to stash our packs to hike to get the car. But we ran into some people who gave us a ride to Rob's car. YAY.

On the way back to Rob's place we stopped off to pick up a pound of bacon and a dozen eggs. Along with ice cream and waffles they started our fat-cholesterol recovery. As Rob said "Nothing I have done in the North Cascades has prepared me for this trip". It was almost an Epic.
A picture of the pickets from someone else with more snow. taken from near luna peak. The east peak of Fury is in the middle right. Challenger is on the far right.