Family Pictures | What's Tom up to? | Rogues Gallery | Climbing Pictures | Anne's Art | Vacation Photo Album | Favorite Links | Contact Me
Mount Tom Hike, 10-10-2001
You would think that MY mountain would be my friend, but no. I started out at 7:30, biking up from about 6600ft. I took the wrong road, so ended up going across a grassy meadow before finally stalling out and hiking. Then after a bit I got to the right road. Then on and on and on and on, up past the "sonny boy" mine buildings, then the "hanging valley" mine stuff by Horton Lake (very picturesque). I wasn't sure I was on the right road, but I was. I finally got to the Tungstar mine around 12 (up around 12,000'). From there it was steep loose Talus (Craig was right). On to the Summit of Mt. Tom around 1:30, 13,652' (7000 feet up from where I started). nice view though.
A picture of me on the summit of Mt Tom. The talus sucked going down, and my right foot came down on a rock that rotated rapidly counterclockwise taking my foot with it, and my tibia and fibula. Nothing else decided to rotate though, so my knee was out of joint. It didn't hurt much, but it was very disconcerting. I couldn't straighten it out, but after I sat down, it popped back audibly and with a jolt. Yikes. Luckily it seemed to work for the remainder of the hike and bike back (getting back at 6:30 ish). The next day it was pretty sore though. I think Mt. Tom might be in the background of one of my Turkey pictures.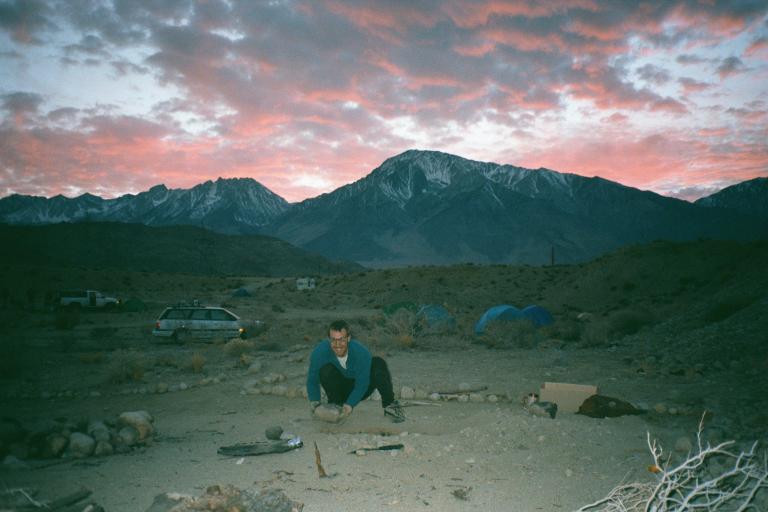 Mount Tom is over my left shoulder as viewed from the pit last winter.


Mt Tom in the evening from the pit March 2002 (Adam's picture)
Link to SummitPost Mt Tom page