Tom's page for the fall of 2000
Now that I have access to a real computer and a scanner I can help this tired old page out. Fall was spent in Oregon, Washington, and California.
For photographs of the people I was hanging with, check the rogues gallery
Click here to look at links to other pages the links page
Check out my mom's web page (mostly lots of relatives and ancestors pictures) MJPG web site We got her started with HTML, and now she is going a little crazy.
| | | |
| --- | --- | --- |
| | | |
| "Yarrow" | "Nettle" | "Foxglove" |
Block prints by Anne E. G. Nydam
---
Smith Rocks State Park
I went from Wyoming to Smith Rocks State Park in Oregon arriving Oct 8th, where I met up with Amy, Dean, and Pip as well as some Oregonians I knew. Then moved into the Skull Hollow campground. The day after I got there, the weather turned wet and colder. Harrumph. I gradually reacquanted myself with the thin edges and sequency climbing there. Projects included "latest rage" (12b) and "Dreaming" (12a) I also messed around on "chain reaction" (12c) but wasn't making much progress. I also managed to climb "Heinous cling" and a number of 11s such as "up for grabs", "ring of fire", and "licensed to bolt". We also climbed in the gorge a few days, but it was mostly too cold.
For the Halloween weekend Matt and I went to Portland where we went to a number of halloween parties. (I went as Toprope Man) look for the pictures on the Climbing in costume page.
In November I went to Winthrop Wa. for the wedding of Anna-Liisa Little and Brett Worall. Then after a few days in Portland, Matt and I headed South to California.
Bishop, California
We ran into a snow storm heading over the Sierras, but made it to Bishop without too much trouble Nov. 11th. There we moved into the Pit, otherwise known as Camp V and started thrashing our fingers on the amazing boulders. When we weren't bouldering, we climbed in the Owen's River gorge, where I onsighted "from chocolate to morphine" (11d). We also soaked in some of the local hot springs, and hung out with the diverse international crowd at the pit. Most of our bouldering was at the Happy Boulders and the Buttermilks, but we also went to the Druid Stones, and a few other areas in the tablelands. Go there as soon as possible while it is still free and relatively unregulated.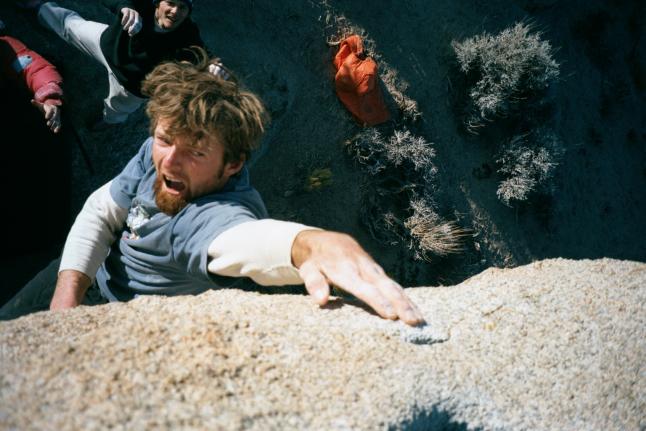 Matt finally sticking the Archdruid (his arch nemesis)
Sunset over the Sierras
"Columbine", block print by Anne E. G. Nydam